#ffffff
Image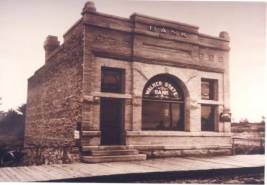 In 1902, Ed Staede laid the foundation for the first bank in Walker, Minnesota, when he imported $4,000 of brick and stone.  The bank was opened under the name Walker State Bank, which was later changed to The First National Bank of Walker.  Ed Staede served as the bank's first President, and the original Board of Directors included Harry Brummond, Charles Kinkle, F.B. Davis, C.E. Griffith, and M.J. Quam.
The First National Bank of Walker acquired Farmers State Bank of Walker in August of 1928.  Ed Staede retired in 1936 and was succeeded by C.J. Elsenpeter, who served as President until 1979 and Chairman of the Board until 1988.
A new bank building was constructed in 1957, which remains the present-day location of the Walker office.  The bank expanded its service area to Longville in 1978 and Akeley in 1979.  John Elsenpeter, who joined the bank in 1970, was appointed President in 1988.  In 1990, the bank acquired Backus State Bank, with locations in Backus and Hackensack.  Michael Elsenpeter succeeded John Elsenpeter as President in 2004.
In 1997, Walker Banco, The First National Bank of Walker holding company, purchased Lakes State Bank of Pequot Lakes and Crosslake.  Lakes State Bank operated as an independent bank charter where David Elsenpeter served as President and JP Elsenpeter served as Executive Vice President.  The First National Bank of Walker subsequently acquired the Remer, Longville, and Jenkins locations from Woodland Bank in 2012, while Lakes State Bank further expanded its service area to Baxter in 2014.
Image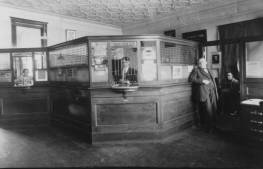 Walker Banco announced the merger of The First National Bank of Walker and Lakes State Bank in April of 2015; it assumed the name First National Bank North.  Michael Elsenpeter served as CEO, David Elsenpeter as President, and JP Elsenpeter and Paul Jaeger as Executive Vice Presidents. 
In 2021, First National Bank North announced officer title changes.  JP Elsenpeter was appointed as President and CEO, David Elsenpeter as CFO, and Michael Elsenpeter as the Chairman of the Board.

In 2023 First National Bank extended their service area again by opening their 10th location in Nisswa, Minnesota.
First National Bank North has branches in the following locations: Akeley, Backus, Baxter, Crosslake, Hackensack, Longville, Nisswa, Pequot Lakes, Remer, and Walker, and has grown in assets from $4,000 in 1902 to more than $750,000,000 today.